Renew Your Vows in Las Vegas
Traditional Vow Renewal Package - $249
(Let's Get Hitched)
Use of Chapel
Traditional Music
3 Rose Nosegay and Rose Boutonniere
Professional Photography
4 Digital Images of your choice. Equivalent to an $80 photo credit.
Vow Renewal Certificate Holder
Complimentary round trip limousine service available from Strip & Downtown hotels (based on availability)
* Additional fees: Officiant's Fee - $60 | Suggested Photographer's Tip - $20 | Suggested Limo Driver's tip - $40 | Sales Tax

Traditional Vow Renewal Package - $299
(Las Vegas Spectacular)
Use of Chapel
Traditional Music
6 Rose Bouquet & Rose Boutonniere
Professional Photography
5 Digital Images of your choice. Equivalent to a $100 photo credit.
Digital Video of Ceremony

Facebook Live Stream of Ceremony (optional at no charge)

Vow Renewal Certificate Holder
Complimentary round trip limousine service available from Strip & Downtown hotels (based on availability)
* Additional fees: Officiant's Fee - $60 | Suggested Photographer's Tip - $20 | Suggested Limo Driver's tip - $40 | Sales Tax
Traditional Vow Renewal Package - $399
(Las Vegas Storybook)
Use of Chapel
Traditional Music
One Dozen Rose Hand Tied Bouquet & Rose Boutonniere
Professional Photography
9 Digital Images of your choice. Equivalent to a $180 photo credit.
Digital Video of Ceremony

Facebook Live Stream of Ceremony (optional at no charge)

Vow Renewal Certificate Holder
Complimentary round trip limousine service available from Strip & Downtown hotels (based on availability)
* Additional fees: Officiant's Fee - $60 | Suggested Photographer's Tip - $20 | Suggested Limo Driver's tip - $40 | Sales Tax
Traditional Vow Renewal Package - $499
(Las Vegas VIP)
Use of Chapel
Traditional Music
Specialty Bouquet & Rose Boutonniere
Bridesmaid's Nosegay & Best Man's Boutonniere
Professional Photography
13 Digital images of your choice. Equivalent to a $260 photo credit.
Digital Video of Ceremony

Facebook Live Stream of Ceremony (optional at no charge)

Vow Renewal Certificate Holder
Complimentary round trip limousine service available from Strip & Downtown hotels (

based on availability

)
* Additional fees: Officiant's Fee - $60 | Suggested Photographer's Tip - $20 | Suggested Limo Driver's tip - $40 | Sales Tax
Additional Considerations
Minister's Fee - $60
Photographer's Tip - Suggested $20
Limo Tip - Suggested $40 and up
Sales Tax
Marriage License - Paid to Marriage Bureau
Deposits Are Nonrefundable
Rescheduling:
We require 48 hours notice to change a ceremony date and time. A rescheduling fee of $50 will apply for any changes made with less than 48-hours of your ceremony.
Cancellations:
If you need to cancel your reservation, we require at least 48 hours notice; you will receive a full refund less the $100 deposit ($350 for Dueling & Concert packages) which is required to hold the chapel date and time. For cancellations within 48 hours of ceremony, no refunds are available.
View and Download our packages in your language.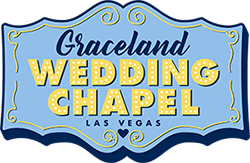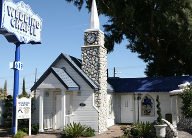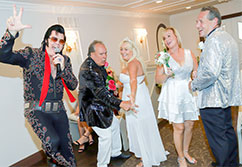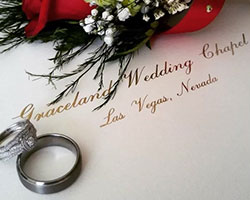 Home of The WORLD'S FIRST Elvis Themed Wedding
&
OFFICIALLY LICENSED by Elvis Presley Enterprises
Home of The WORLD'S FIRST
Elvis Themed Wedding
&
OFFICIALLY LICENSED
by Elvis Presley Enterprises