Dee Dee Duffy, owner of historic Graceland Wedding Chapel - Review Journal by Robin Leach
Who would have thought a little Kentucky girl like me would end up in Las Vegas owning her own wedding chapel? And not just any chapel, the one that "The King" Elvis Presley made famous: Graceland Wedding Chapel! I certainly didn't think so when I first arrived here more than 20 years ago, even though owning a chapel was always my dream.
And for an Elvis fan like myself, buying Graceland Wedding Chapel was not necessarily always on my mind, but it still has me all shook up. How I happened to acquire the chapel is a really good story for a future article (hint, hint, Mr. Leach). But I truly do feel fortunate that I have chiseled a career out of this little wedding chapel dream of mine.
I often get asked if the wedding business is fun and if Las Vegas is still the Wedding Capital of the World. My answer: a resounding yes! And, thankfully, Elvis is as big today in Las Vegas as he's ever been. You would not believe how many couples visit us each day from all over the world specifically to be married by an Elvis impersonator.
It also helps that Graceland Wedding Chapel has a large following, as well as significant name recognition, having been featured in films like FEAR AND LOATHING IN LAS VEGAS and FOOLS RUSH IN.
Every day I walk past our wall of celebrities, the framed photos remind of all the famous couples who have wed or renewed their vows at Graceland, which include my favorite singer, Jon Bon Jovi. Feel free to stop by and take a look. And, I honestly forget they're there, until something jogs my memory.
​Read Full Article -
Dee Dee Duffy, owner of historic Graceland Wedding Chapel - Review Journal by Robin Leach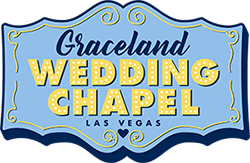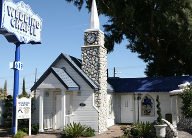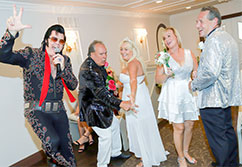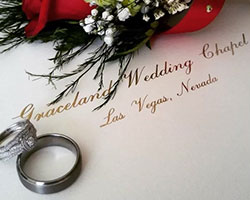 Home of The WORLD'S FIRST Elvis Themed Wedding
&
OFFICIALLY LICENSED by Elvis Presley Enterprises
Home of The WORLD'S FIRST
Elvis Themed Wedding
&
OFFICIALLY LICENSED
by Elvis Presley Enterprises