What's more fun than a Las Vegas Elvis wedding ceremony? A Group Las Vegas Elvis wedding ceremony.
That's right! You can now have your friends and/or family join you to create the ultimate Las Vegas wedding experience. Here's how it works:
First, select one of our packages (Viva Las Vegas package is not available for Group Ceremonies). Then the cost to add additional couples to join your ceremony is $75 per couple. If the additional couples would like to add flowers, photos, or digital video service, then those items can be added a la carte.
Also keep in mind, there are additional cash items that are separate from the package. Since the cash items vary depending on the number of couples in the ceremony, your consultant can confirm all the cash items, but here is what the general cash items look like:
Minister's fee - $60 per couple
Photographer's tip - $20 per couple
Limo tip - Recommended $60
Here's an example of a Loving You package as a Double Ceremony, with matching flowers for both couples.
Loving You - $329
Add Second Couple - $75
Add Second Set of Flowers - $65
Sales tax & fees - $67.42
Total - $536.42
And then the cash items are:
Minister's fee - $60 per couple, $120 total
Photographer's tip - Recommended $20 per couple, $40 total
So if you include the cash items, your total is $696.42.

(Please note, there is a maximum of 4 couples per Group Ceremony. So if you more than 4 couples in your Group Ceremony, then the 5th couple will need to purchase a package, and can have another 3 couples join their ceremony.)
If you're ready to set up a reservation, click on the link below:
Another group ceremony option is to have ceremonies performed back to back. With this option, each couple selects their own package, and we can perform your ceremonies one after the other.
​
Cancellation & Rescheduling Policy
Cancellations
If you need to cancel your reservation, we require at least 48 hours notice; you will receive a full refund less the $200 deposit for Group Ceremonies ($350 for Dueling & Concert packages) which is required to hold the chapel date and time. For cancellations within 48 hours of ceremony, no refunds are available.
Rescheduling Fee
We require 48 hours notice to change a ceremony date and time. A rescheduling fee of $50 will apply for any changes made with less than 48-hours of your ceremony.
​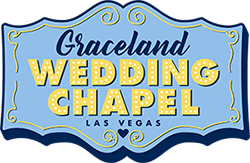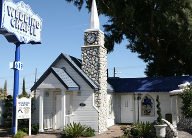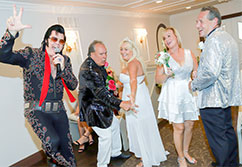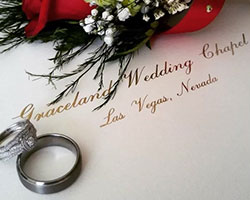 Home of The WORLD'S FIRST Elvis Themed Wedding
&
OFFICIALLY LICENSED by Elvis Presley Enterprises
Home of The WORLD'S FIRST
Elvis Themed Wedding
&
OFFICIALLY LICENSED
by Elvis Presley Enterprises