CANCELATION/REFUND POLICY
Graceland Chapel Weddings: If you wish to cancel your wedding, Graceland Wedding Chapel will refund the total amount, minus the non refundable deposit ($100 for all packages except Dueling Elvis and Concert with the King, which is $350, and $200 for Group Ceremonies). If your wedding is canceled on the same day the wedding is scheduled to take place, or a 'no show' occurs, the wedding is 100% non refundable.
Red Rock/Helicopter Weddings: If you wish to cancel your reservation, Graceland Wedding Chapel offers a 100% refund with at least 30 days notice of the event. There will be no refund provided for cancelations less than 30 days, or no-shows.
RESCHEDULING POLICY

We require 48 hours notice to change a ceremony date and time. A rescheduling fee of $50 will apply for any changes made with less than 48-hours of your ceremony.
PRIVACY POLICY
The purpose of this Privacy Policy is to inform you about the types of information we might collect about you when you visit our Site, how we may use that information and whether we disclose that information to anyone.
What Information We Collect and How We Use It
Any information we collect on our Site generally falls into the Personally Identifiable Information category.
Personally Identifiable Information: This refers to information that lets us know specifically who you are. In general, you can visit our Site without telling us who you are or revealing any Personally Identifiable Information.
Ordering and Contact Form - When you place an order for products or services, or contact us through our contact form, we use a booking platform called FareHarbor, where we collect Personally Identifiable Information (such as name, contact and billing information, credit card, and other transaction information). We use this information to deliver your order, process payment, and to communicate with you about the status of your order. All the information is stored on FareHarbor, and not store directly on our website.
Payments - Payments collected through our website are also entered through FareHarbor, but we use a payment processor called Stripe, which integrates with FareHarbor. Your payment information is stored on Stripe, and is not stored on our website.
Cookies
We use cookies through Google Analytics to help us track the performance of our website.
Sharing Your Information
Except as disclosed in this Privacy Policy, we do not sell, trade, rent, or otherwise retransmit any Personally Identifiable Information we collect online unless we have your permission. Any Personally Identifiable Information you provide to us will be used for your purchases and retained in hard copy form of the original invoice as well as within our database system.
From time to time, we may be required to provide Personally Identifiable Information in response to court order, subpoena, or government investigation. We also reserve the right to report to law enforcement agencies any activities that we in good faith believe to be unlawful. We may release Personally Identifiable Information when we believe that such release is reasonably necessary to protect the rights, property, and safety of others and ourselves.
Links To Other Web Sites
Links to third-party Web sites may be provided solely for your information and convenience, or to provide additional information for various other goods and services. If you use these links, you will leave our Site. This Privacy Policy does not cover the information practices of those Web sites linked to our Site, nor do we control their content or privacy policies. We suggest that you carefully review the privacy policies of each site you visit.
By using our Site, you acknowledge acceptance of this Privacy Policy in effect at the time of use.
​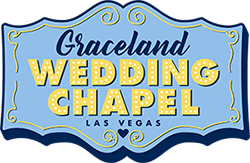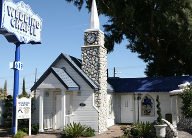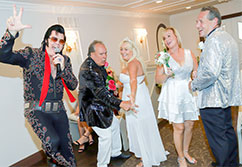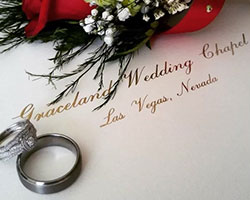 Home of The WORLD'S FIRST Elvis Themed Wedding
&
OFFICIALLY LICENSED by Elvis Presley Enterprises
Home of The WORLD'S FIRST
Elvis Themed Wedding
&
OFFICIALLY LICENSED
by Elvis Presley Enterprises