Graceland Wedding Chapel - Our History
Graceland Wedding Chapel was originally a beautiful little house built in 1927 on South 5th Street by Scottish settlers looking to be a part of the American Dream. Just after the end of WWII and the beginning of the baby boom era, a dramatic increase in wedding ceremonies took place due to the relaxed marriage license laws in Las Vegas. In 1947, the same year Bugsy Siegel's famed Flamingo Hotel officially reopened for business, the front portion of the house was transformed into a picturesque wedding chapel and the first wedding was performed on behalf of Ben and Mary Pearsall from Anchorage, Alaska. ​
The chapel was initially named McKee's Gretna Green Wedding Chapel, after the famous nuptial Scottish village just across the border from England. A few years later, 5th Street became known as Las Vegas Blvd, a vital connector between the Downtown gambling establishments and the developing large casino resorts located further south. This area became commonly known as "The Strip". Over the next two decades, the chapel flourished, providing couples with a beautiful and quaint wedding venue conveniently located right on Las Vegas Strip.
In 1967, twenty years after the first wedding was performed, an unannounced knock on the door revealed none other than the King of Rock n Roll himself, Elvis Presley. He was on the doorstep and just wanted to come in for a short visit and tour of the chapel. This stopover by The King forever changed the destiny of the chapel. Later that year he would marry Priscilla Bilyeau at the Aladdin Hotel (now Planet Hollywood Resort & Casino) which could easily accommodate his 250+guests. After Elvis' death in 1977, Gretna Green Wedding Chapel officially changed its name to Graceland Wedding Chapel in commemoration of the life and chapel visit of Elvis Presley. It was that same year that the famed Elvis wedding ceremonies were first introduced by the chapel.
Over 70 years and literally hundreds of thousands of ceremonies later, we have had many music and Hollywood icons either marry, renew vows, or just drop by the chapel including: Jon Bon Jovi, Billy Ray Cyrus, Rob Zombie, Aaron Neville, Johnny Depp, Jay Leno, Andie MacDowel, Robin Leach, Leslie Mann, as well as members of groups such as Def Lepard, the Thompson Twins, The Beastie Boys, The Moody Blues, and KISS.
Today, more than 70-years later, Graceland Wedding Chapel remains the most iconic and most photographed wedding chapel on the Las Vegas Strip and continues to be recognized worldwide as the home of the very first Elvis themed wedding ceremony.
​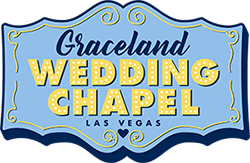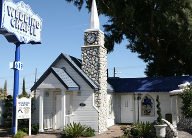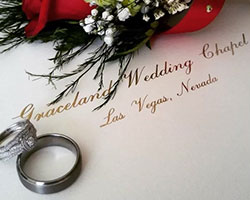 Home of The World's First Elvis Themed Wedding
Home of The World's First
Elvis Themed Wedding