Getting Hitched at Graceland Wedding Chapel WestJet Magazine by Amanda Lee​
Inside Graceland Wedding Chapel, an iconic place to get married in Sin City, complete with your own Elvis.
Elvis entered the room and I swooned.
Dressed in an open-neck black jumpsuit with red rhinestones and Elvis-style aviator sunglasses, Brendan Paul has the same ability to make women go weak at the knees as the original Elvis.
Paul is owner of the quaint , a perennial fixture on Las Vegas Blvd for over 50 years. Brandon Paul started his Elvis career 15-years-ago performing in "Legions in Concert" and now sings in up to 70 of the 200 ceremonies scheduled at the chapel each week.
My sister, Erika, and her beau, Ben, travelled from Sydney, Australia to be married in a style befitting their personalities—flanked by Elvis singing his heart out.
With her smattering of body piercings and tattoos, my sister concedes, "A full white wedding wasn't us. We wanted something a bit more rock and roll."
Arriving in a chauffeured stretch limousine (licence plate GRACELN, natch), we are waiting for Elvis to get the proceedings underway.
The length and breadth of the bustling reception wall is covered with photos of the famous and somewhat famous couples that have exchanged vows at this chapel.
Jon Bon Jovi was married here, followed by an impromptu concert in the chapel's parking lot.
Billy Ray Cyrus and members of Def Lepard, KISS, and Deep Purple also tied the knot at the Graceland Chapel.
​
Read Full Article
Getting Hitched at Graceland Wedding Chapel - by Amanda Lee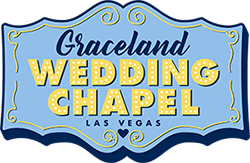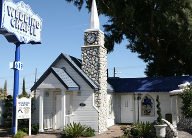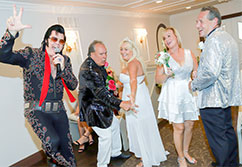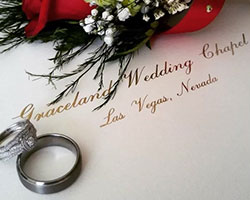 Home of The WORLD'S FIRST Elvis Themed Wedding
&
OFFICIALLY LICENSED by Elvis Presley Enterprises
Home of The WORLD'S FIRST
Elvis Themed Wedding
&
OFFICIALLY LICENSED
by Elvis Presley Enterprises