Las Vegas Graceland Wedding Chapel
General Knot & Co. by Elizabeth Evertsz
In the first part of the Las Vegas Wedding Chapels series, we took a look at the different types of chapels found in the city that never sleeps. As we continued to look deeper into the Vegas wedding industry, we hit the jackpot by meeting up with the General Manager of Graceland Wedding Chapel, Brandon Reed.
is considered one of the oldest chapels on The Strip and has a very long list of loyal fans, including at one time, Elvis Presley himself. Read on to learn more about it.
GK: Can you tell me a bit about the history of the chapel?
Brandon: Built in 1927, it was converted into a chapel after WWII. It was originally named Gretna Green Wedding Chapel, then the name changed to Graceland Wedding Chapel after an historic visit from Elvis Presley himself in the late 1960's. (GK- a bit more background we learned from Brandon was that the original owners were from Scotland and used the small entrance to their home as the wedding chapel. In the late 1940's, as GI's were coming back from war, Vegas grows and booms as a wedding destination. Also, the name Gretna Green comes from a small town in Scotland famous for runaway weddings back in the day; today, it's considered one of the world's top wedding destinations.)
​
Read Full Article - Las Vegas Graceland Wedding Chapel - General Knot & Co. by Elizabeth Evertsz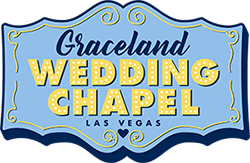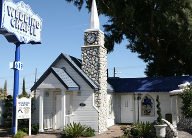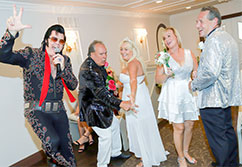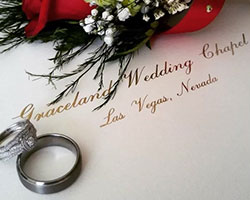 Home of The WORLD'S FIRST Elvis Themed Wedding
&
OFFICIALLY LICENSED by Elvis Presley Enterprises
Home of The WORLD'S FIRST
Elvis Themed Wedding
&
OFFICIALLY LICENSED
by Elvis Presley Enterprises