Pike County woman is co-owner of Las Vegas' Graceland Chapel - Lexington Herald Leader by Cheryl Truman
Dee Dee Duffy grew up on Marrowbone Creek Road in Pike County — "about as rural as you can get" — wondering how she could see the world.
Duffy, 52, became a flight attendant and eventually figured it out: She and her ex-husband, Elvis impersonator Brendan paul, own the Graceland Wedding Chapel in Las Vegas.
There you can have your ceremony — be it a marriage, vow renewal or even a joke ceremony that will really get your Facebook friends reeling — in the presence of, and accompanied by songs from, The King.
The final tune will always be "Viva Las Vegas," because who does not associate that line about needing "a strong heart and a nerve of steel" with the joy of matrimony?
Hugh Bonneville and his wife Lulu Williams stopped by in early August to renew their marriage vows. The British actor, who played Robert Crawley, the Earl of Grantham, on "Downtown Abbey," and Williams first married in 1998.
The Las Vegas Review Journal, reporting on the proceedings, wrote, surely tongue in cheek, that the chapel "is almost as old as Downton Abbey itself, having stood in the same spot on the Strip for more than 50 years." (Highclere Castle, the stand-in for the Downton Abbey house, was built in 1679.)
Read Full Article - ​Pike County woman is co-owner of Las Vegas' Graceland Chapel by Cheryl Truman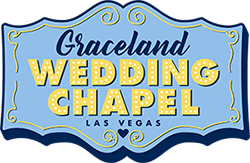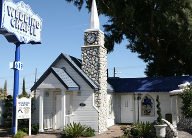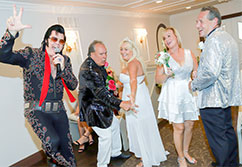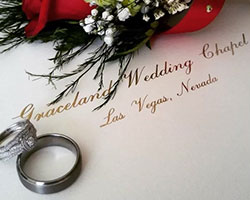 Home of The WORLD'S FIRST Elvis Themed Wedding
&
OFFICIALLY LICENSED by Elvis Presley Enterprises
Home of The WORLD'S FIRST
Elvis Themed Wedding
&
OFFICIALLY LICENSED
by Elvis Presley Enterprises